Meat Dicing Machine | Commercial Meat Dicer Machine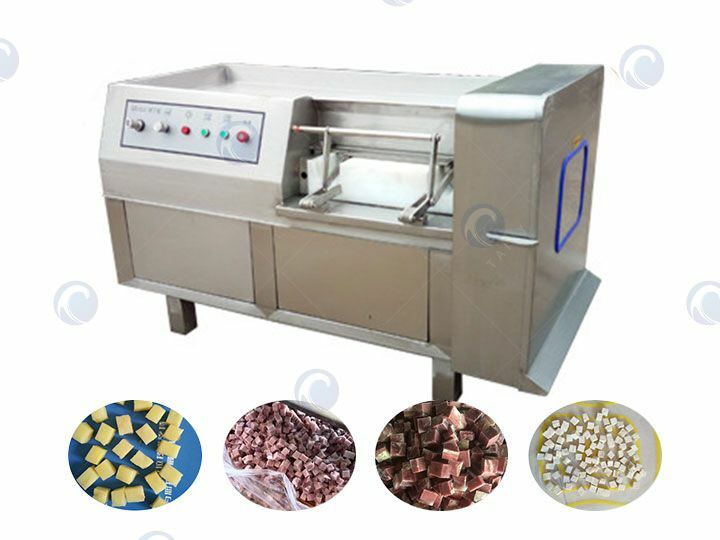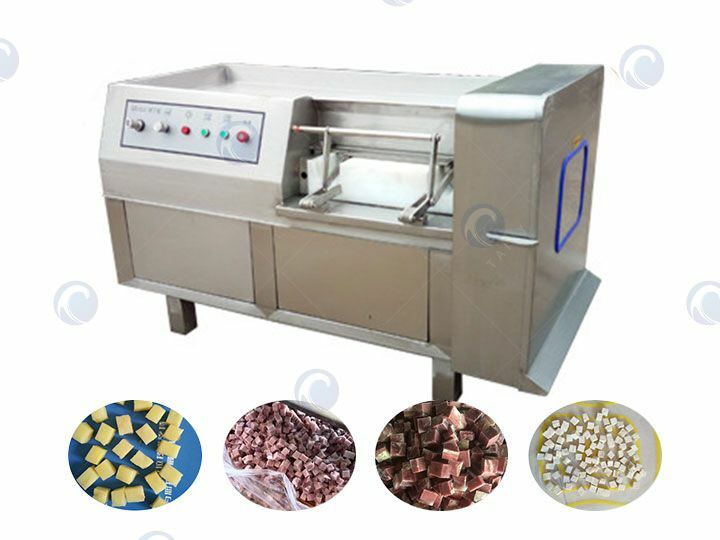 | | |
| --- | --- |
| Model | TZ-350 |
| Capacity (kg/h) | 500-600 |
| Overall dimensions (mm) | 1500*700*1000 |
| Dicing size (mm) | 3-30 |
| Weight | 500kg |
You can now ask our project managers for technical details
Meat dicing machine is a machine for dicing meat and frozen meat into small pieces. Therefore, our machines are welcomed by many food factories and meat processing plants. If customers also want to slice meat, we can also provide machine help.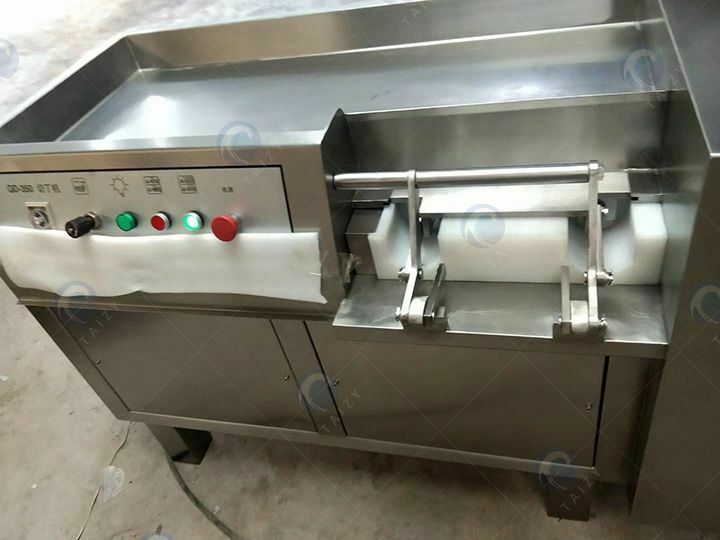 Characteristics of meat dicing machine
The commercial meat dicer machine can cut frozen meat at a temperature of minus three to four degrees.
The machine can cut meat into diced meat, shredded meat, meat granules, and meat pieces.
Simple operation and reasonable design. The knife speed and automatic pre-compression system can be adjusted.
The machine can cut all kinds of meat products into pieces of uniform size.
Easy to clean. Because commercial meat dicing machine parts can be easily disassembled. This allows the customer to easily clean the residues in the machine gap.
High safety. The equipment will not start when the door of the machine outlet is opened or not closed.
Technical parameters of commercial meat dicer machine
| | | | | | |
| --- | --- | --- | --- | --- | --- |
| Model | Power | Overall dimensions (mm) | Weight | Dicing size (mm) | Capacity (kg/h) |
| TZ-350 | 2.2kw | 1500*700*1000 | 500kg | 3-30 | 500-600 |
| TZ-550 | 2.2kw | 1940*980*1100 | 700kg | 3-30 | 700-900 |
These are the parameters of the two meat dicers. The output is 500-600 kg/h and 700-900 kg/h, respectively. You can choose according to your own needs. In addition, we have other models of machines for sale. So, If you need this machine, please feel free to contact us.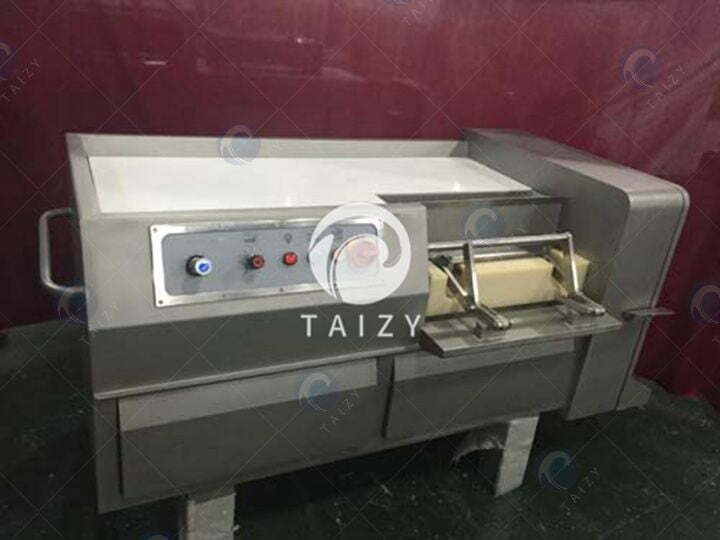 How does the meat cube dicer work?
The meat cube dicer is driven by a motor. Firstly, we need to put the material into the machine. Then the high-speed centrifugal force will cut the materials into strips with the help of sharp blades. Finally, the cross-cutting blade cuts the strip material into cubes of uniform size. Here is how to use the meat dicing machine.
What equipment is used for cutting meat?
Taize electric meat dicer is the best machine for cutting diced meat. This machine can not only cut diced meat, but also cut shredded meat, meat granules, and meat pieces. The output per hour ranges from 500 kg to 900 kg. If you need our cube meat dicer machine, please feel free to contact us.
Application scope of cube meat dicing machine
Our machines are widely used for processing a variety of meat, such as frozen meat, cooked meat, and vegetables. Therefore, if you are finding commercial chicken dicer, our machine will be a good choice. With the help of meat dicer, the machine can cut meat into meat pieces. Therefore, there are many places that use this machine, such as meat processing plants, Western restaurants, frozen food factories, schools, Chinese restaurants, catering companies, and other places. If you just want a piece of meat, we have special meat cutting machine for sale.

What is the price of the dicing machine?
The price of frozen meat dicing machine is affected by many factors, such as output, distance, and customized services. As the name implies, the price of machines with high output is higher than that of machines with low output. Freight, as one of the factors that affect the price of the machine, is also a factor that buyers need to consider. The farther the importing country is from the exporting country, the more expensive the price is. Of course, if the buyer needs customized services, the price of the machine will also be higher.